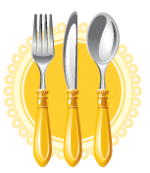 Few things are close to cooking for at-home learning activities that don't feel like learning. There's math involved in measuring and adjusting recipes; linguistic smarts involved in recipes & reviews; kinesthetic work involved in chopping/kneading/stirring/etc; interpersonal & communication skills involved since a parent needs to be in the kitchen monitoring the cook time; you can even include some naturalist skills by chatting about why "in season" is important.
Check out our Pinterest board of some of the Fall family favorites in our house.
We'll be adding to the board all month… we hope you like them, too! We recommend trying some of these pre-Thanksgiving and, if the family likes one or more recipes, let your child(ren) make their own contribution(s) to your Thanksgiving table.
Fall Recipes Your Kids will "Gobble Gobble" Up