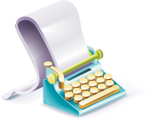 Because self smart kids generally have a good handle on their emotions, moods and reactions and enjoy self-discovery and reflection, journaling is often a favorite activity and an enjoyable way to develop linguistic acumen. But just getting your child a diary and encouraging him/her to write in it may not be enough to get the pencil moving on the page. Brainstorm together topics that your child would enjoy exploring either that week, that month or over the summer and put them on individual scraps of paper in a journal jar. Google "journal prompts" if you and your child are having trouble coming up with ideas. Then, have your child pick one prompt out of the journal jar each day and spend 10-20 minutes writing about the topic. (If s/he is not adept at writing yet, spend time discussing the topic together instead.)
Did your child enjoy this activity?

Create special scrapbooks together where kids get to ask their Moms or Dads fun questions about her life and then scrapbook what they've learned. Includes a passcode to the RB Kids' Club web site, where children can design their own pages in a state-of-the-art Scrapbook Studio, play on-line video games, earn points, and send e-cards.

Make memories with Mom or Dad while remembering the good old days!